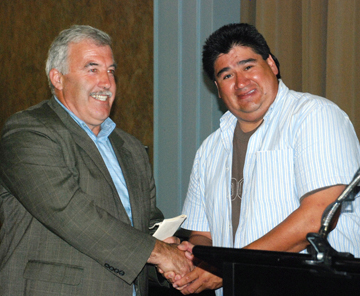 After years of consultation, research and planning, Assembly of Nova Scotia Mi'kmaq Chiefs released Mi'kmaq guidelines for moose hunting in Cape Breton.
Tia'muwe'l Netuklimkewe'l–Unama'ki Moose Harvesting According to Netukulimk was created by the Mi'kmaq people of Nova Scotia and is an important step for Mi'kmaq self-governance over our traditional resources.
If you don't have a copy of the Guidelines yet, you can pick up a copy at the UINR office in Eskasoni, or you can download a copy at our website: www.uinr.ca The UINR website also has background information on the initiative.
Clifford Paul, Co-ordinator of the Moose Management Initiative expresses his thoughts on the guidelines: With these guidelines, Mi'kmaq are maintaining our ancient commitment as stewards of a very valuable resource–the moose.  These guidelines are a way to continue this relationship far into our future. It is a Mi'kmaq-led and ancient system of allowing the moose to continue for the benefit of the next seven generations.
Eric Zschelle, negotiator with Kwilmu'kw Maw-klusuaqn, explains the guidelines' significance to Mi'kmaq self-governance: The Assembly saw this as a chance to pursue self-government and self-management. UINR had been exploring joint management with DNR and Parks Canada for a number of years, but governments were not willing to extend discussions into governance issues. The Made-in-Nova Scotia Process presented an opportunity to take this discussion further and expand the role of the Assembly and the governance project, to involve all Mi'kmaq communities of Nova Scotia.
clifford@uinr.ca