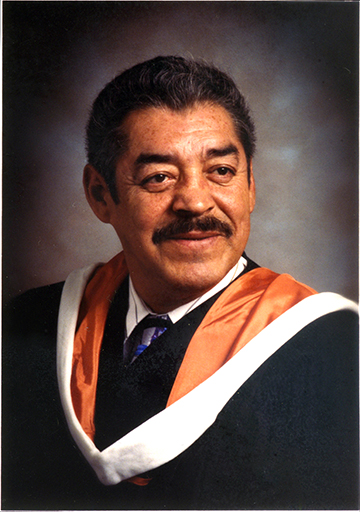 For such a quiet man, when it came to matters of the environment, Allister Marshall spoke with a very loud voice.
Born in Potlotek, he spent much of his life in the community he loved, working as a Band Councillor and as a Guardian promoting conservation and protection for the community's Fisheries Department, an appropriate career for someone who cared so deeply for the environment. Allister inspired many people to get involved in environmental work and gave them the courage to follow their passion.
Allister was a long-time member of the Nova Scotia Environmental Network and an active member of the First Nations Environmental Network, the Steering and Management Committees of the Southern Gulf of St. Lawrence Coalition on Sustainability and was Chair of the Potlotek Water Protection Committee. If there was one issue that he was particularly passionate about, it was water. He helped form the Save Our Seas and Shores Coalition and was a member of the CEN Water Caucus.
He spoke from the heart and with sincere earnestness because there was no one else to do it. Although hard of hearing, he still went to meetings and did his best to follow what was being said and to contribute ideas in a positive way. He had no hidden agenda with anyone, with Allister the issue was always the environment. To stay active and involved in environmental work, he would cobble together a vehicle to proudly take him to many meetings to further the cause.
One of his lasting legacies is the Marshall Award for Aboriginal Environmental Leadership. The award is named after Allister and is annually awarded to a First Nations individual or group who has demonstrated environmental leadership in Nova Scotia. Allister was involved with Unamaki Institute of Natural Resources from its beginning and actually was responsible for its name. Over the years he was a regular participant at workshops and traditional knowledge gathering sessions at UINR.
Allister was a gentle, dignified and humble man who understood friendship deeply. His quiet intelligence and sharp sense of humour put everyone he met at ease. He will always be remembered in the hearts and actions of the many people he inspired to care for the environment.
Allister Coliste Marshall, 67, passed away on May 26, 2012. He was the son of the late James and Mary Ellen (Nicholas) Marshall. He leaves his wife of 36 years Mary Veronica (Vicaire) Marshall, son Coliste,  daughter Rhonda, and his grandchildren.