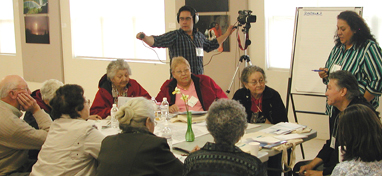 "When I was a kid I walked through eelgrass beds. They are great nurseries. You would see a lot of minnows, pinfish, and eels and watch them swim away. I want to talk to youth to let them know that eelgrass beds are important nurseries. Eelgrass has decreased a lot. It is different today."
Fifty Elders from Mi'kmaq and other Unama'ki communities met for two days in a workshop to contribute traditional ecological knowledge to a two-eyed seeing approach for the Bras d'Or Lakes Collaborative Environmental Planning Initiative.
The workshop included traditional music, ceremonies, and extensive discussions on the natural history of the Lakes. The Sarah Denny Cultural Centre in Eskasoni played host to the collaborative effort of UINR, DFO, and CBU's Integrative Science Program.
Clifford Paul and Murdena Marshall were among the facilitators for the event. UINR staff, along with Jason Naug and Penny Doherty from the Department of Fisheries and Oceans were also on hand to facilitate and assist. The sessions focused on Land: Animals and Plants; Water: Salt and Fresh; and Climate and Significant Areas.
Among many of the changes noted was the change in plants around the Lakes. Gooseberries, raspberries, wild strawberries, and blackberries were once abundant but have declined. Potential reasons for the decline in berries were discussed including climate change, acid rain, and the escalation in development of houses and land. It was also noted that mint and hazelnuts have declined.
The loss of plants has had an impact on the Aboriginal community. Elders noted that plants are very important for ceremonial purposes. For example, sweetgrass is used for opening prayers. Plants are often used to make medicines and salves but now it is difficult to find the plants. Elders expressed concern not only about the loss of plants in the area, but also about the loss of traditional knowledge about plants.
The second day ended with a unanimous endorsement by the Elders to have Albert Marshall represent the Elders in matters relating to the environment. This endorsement is a recognition of Albert's passion and knowledge on issues relating to the environment and his deep traditional knowledge.