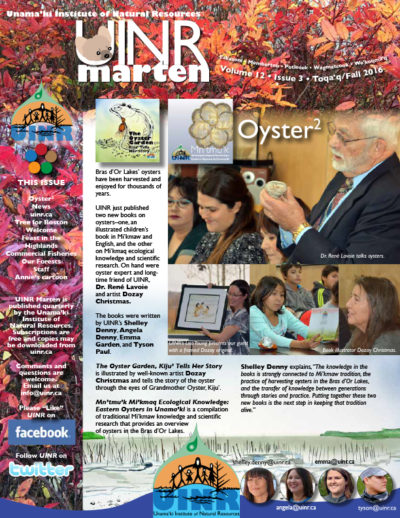 The latest issue of UINR MARTEN (our 44th issue!) is now available as a free download.
In this issue we cover the release of our two new books on oysters in the cover story, Oyster2 and give information on how you can get free copies.
In the News section we look at the recent People of the Lakes Speak conference with keynote speaker Dr. David Suzuki; our two-day workshop on the Canadian Aquatic Biomonitoring Network with Natural Resources Environmental Technology students at Nova Scotia Community College, Wagmatcook Learning Centre; photos from The Nova Scotia Tree for Boston ceremony; and details on our new website, uinr.ca.
Lisa Young, UINR's Executive Director looks back at the Thanksgiving Day Flood and its link to climate change.
We have lots of photos from our annual Blair J. Bernard Memorial Feast in the Highlands and even a poem that was inspired by the event.
UINR Commercial Fisheries Liaison Coordinator John Couture looks in detail at the proposed Marine Protected Area off the coast of Unama'ki.
Our Forestry guys, Jason MacLean and Garett MacVicar take a look at the forest floor's Wisawtaqji'j or Goldthread, an important medicinal plant.
Annie's Cartoon takes a humourous look at how the Thanksgiving Day Flood affected life at the UINR offices!